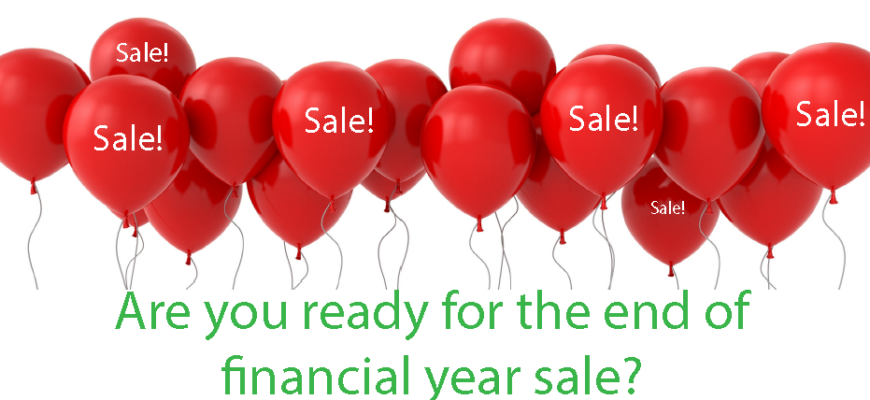 Hello, as you are reading this we are about 50 working days away from the end of the Financial Year.
A well done and timely EOFY campaign can result in a 2-300% increase in sales in the last quarter.
Other possible positive outcomes.
Clearance of old or slow moving stock or services.

Extra income to purchase new stock at a discounted rate or invest in new marketing.

Achieving the yearly sales targets.

Acquiring new clients.

Taking advantage of the buyers' mindset that it's a good time to purchase.

Finding clients who have unspent budget for the year (they do exist)

Finding clients who want to spend to save Tax and recover GST.
Fifty days is actually not a lot of time to conceive, plan and execute an effective campaign so it's probably time to call a sales meeting and get the White Board out.
How can Australian Marketing Lists help you with your campaign?
We have marketing lists for every conceivable sector in Australia for both Business and Residential. We cover everything from a single Postcode to the full National Lists

We have both Email and Fax lists that can reach your prospective clients instantly at an incredibly low price. Great for hot "Buy Now" specials.

Our Telemarketing lists have all the dead numbers removed every month and we have tabbed 1.95 million "Do Not Call" records that will save you thousands in DNC compliance.

We have a new Pay Per Lead service that generates qualified leads with no up-front cost.

We have specialist teams that can create Websites, Ad Words Campaigns, Social Media Campaigns.
Feel free to call or email to discuss ideas as we are part of a huge network of marketing and sales specialists who can help you make your sales targets for the year.
All our lists are at a 20% discount across the boards as part of our EOFY sales campaign.(Quote EOFY)
Australia's most comprehensive schools marketing tool now with more
information than ever before.
| | |
| --- | --- |
|                      ✔   School Name | ✔   Address |
|                      ✔   Postal Address | ✔   Phone |
|                      ✔   Fax | ✔   Email |
|                      ✔   Website | ✔   Principal Name |
|                      ✔   Level | ✔   Government/Provate |
|                      ✔   Other contacts like business | ✔   Catholic/Other |
|                            and account managers | ✔   Much, much more |
Release Price National $595, Save $200
State Editions Available
2017 Australian Residential List
2017 Australian SME Business List
Brand New data, thousands of new records

1.2 million dead numbers removed

1.95 million "Do Not Call" Tabbed Records

250,000 Mobile Phones

Release Price $695, Save $300

Brand New Data

Business Name, Industry Type, Address.

Over 350,000 Phone

Over 200,000 Email

Release Price $595, Save $200
Be the first to use these lists and get the drop on your competition.
For Counts, Samples or more just give us a call, Email or use the contact form on the website.